With panels on web3, unicorn success stories and economics analysis
Summary: 
Newtopia VC held the first edition of Newtopia Summit on November 2nd, 2022. Held in Buenos Aires, the event included a range of presentations from startups in the portfolio, the latest investor report and panels on a range of topics including web3, an analysis of the current political, technical and economic conditions in markets in addition to sharing the Q3 investors report with the limited partners present. 

Here at Newtopia VC we can't stop thinking about ways to support the Latin American (LATAM) startup scene. So, just over a year after we celebrated the first anniversary of Newtopia VC, it was time to host another gathering in our home city of Buenos Aires, Argentina.
The first edition of #NewtopiaSummit took place October 30st – November 2nd and was packed full of insights and ideas from across the region. The first 3 days were dedicated to our portfolio during the Pre-Summit and on November 2nd the main Summit took place, with the presence of more than 60 LPs.
The 400 attendees who joined us over the 4-day period included entrepreneurs, investors, LPs, CEOs and managers, partner VCs, mentors, advisors, teams and partners from different parts of the world, all with a shared passion for LATAM's thriving ecosystem. 
The event included more than 40 activities, including panels, workshops and social activities designed to stimulate knowledge exchange and idea generation. This created an unstoppable energy, with hundreds of conversations and connections of all kinds that we're sure will give birth to new opportunities and boost regional growth. 
In the 15 months since we established our fund, one of the most inspiring elements for us is seeing how Newtopia's community grows each day–as new entrepreneurs, investors and business leaders come together with a shared purpose and vision. With that, we want to thank every single person who participated.
Let's continue to enjoy the memories with some highlights from the event. 
Idea Generation in the Pavilion at Dok Haras
The main event of Newtopia Summit was held at Dok Haras, a horse breeding and training center that also doubles as an event convention center. Located in Exaltación de la Cruz –province of Buenos Aires– Dok Haras offers eleven pavilions tailor-made to meet international corporate standards. 
Our attendees at #NewtopiaSummit had access to all the facilities needed to stimulate ideas and learning, all complemented by idyllic, natural surroundings away from the hustle and bustle of the city.

Exclusive insights for Newtopia Investors
At #NewtopiaSummit, we didn't just focus on startups. Our progress would never be possible without the support of our valued investors, and it was a great pleasure to see our Limited Partners join the event where we also presented our exclusive Q3'22 Investor Report.
Mariano Mayer conveyed a keynote message to the LPs.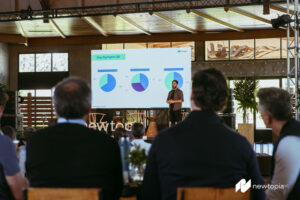 Sacha Spitz, Karin Tenemboin and Sara Gandini from the investment team, who presented an analysis about the VC landscape in Latam + Newtopia investments in Q3 and Q4 so far.
Diego Noriega commented about the growth of the Newtopia Portfolio Support (workshops, mentoring sessions, intros with VCs, etc). Metrics on Newtopia´s Communications and finally all the events that the Newtopia Community had during Q3.

Sports and cocktails make for a healthy balance 
We all know that any event is made even better when social activities are involved. This year's #NewtopiaSummit incorporated many chances for our guests to connect and network with a healthy dose of food, fun and sports in the sun. 
Attendees played Roda Polo, Football Tennis, Basketball, Ping Pong and Rugby
2. On Wednesday night at the end of the meeting, we enjoyed music, cocktails and grilled steaks. 
A few words from our startups  
We couldn't be prouder to know that our guests loved #NewtopiaSummit too. Here are just a few testimonials from the startups who attended: 
«This week was very busy and rewarding, with a lot of learning and nice moments.» 
Alan Szpigiel, Lara AI Co-founder
«Summit 2022 was the excuse to venture into learning, conversations, synergies and laughter with the best colleagues an entrepreneurial ecosystem can have.»

Denise Nathalie Henry Maffeis, For Me Co-founder
"We are now full of energy to continue enjoying the path of growth for our businesses, even knowing that challenges will arise along the way" 
Gaston Zelerteins, Alephee Founder & CEO
"Extremely happy, proud and honored to be part of this #LATAM community of entrepreneurs from all across the continent united in one single mission: make life easier, more digital and affordable for our region." 
Gaspard Hambückers-Jacquemin, Kitchenita Co-founder
Team Newtopia for the win! 
The Newtopia Partners proudly showcase the event swag, filled with optimism after a successful Summit
What's next? 
If you're keen to see more, head over to our YouTube Channel to watch the post-event movie
We're already looking forward to #NewtopiaSummit 2023 and hope to see you there!